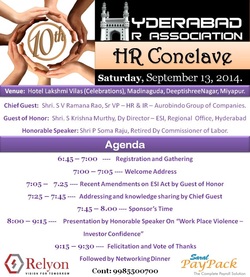 Date:  September 13, 2014

Venue: Hotel Lakshmi Vilas (Celebrations Block), Madinaguda, Miyapur
Attendees: 153
Chief Guest: Shri SV Ramana Rao, Sr. VP – HR & IR – Aurobindo Group of Companies.
Guest of Honor:  Shri S Krishna Murthy, Dy Director – ESI, Regional Office, Hyderabad.
Guest Speaker: Shri Soma Raju, Retd DCL.
Sponsor:  Relyon